Mercedes-Benz reaches new milestone with hydrogen fuel cell vehicle
October 10, 2014
B-Class F-Cell reaches a new milestone, showing off the capabilities of fuel cells
German automaker Mercedes-Benz has reached a new milestone with its B-Class F-Cell fuel cell vehicle. The company has been promoting hydrogen fuel cells in transportation for the past few years and was one of the first to showcase the performance on these energy systems in the transportation space. A few years ago, the automaker succeeded in taking its B-Class F-Cell vehicles around the world, showing that fuel cell vehicles can compete with their conventional counterparts without much trouble.
Fuel cell vehicle travels for more than 186,000 miles
The B-Class F-Cell has now recorded more than 186,000 miles of continues travel. This milestone could help shed some light on the capabilities of hydrogen fuel cells and dispel some of the concerns that people have regarding the efficiency of vehicles that use them. Mercedes-Benz believes that its ongoing trial will help attract more attention to clean transportation and the options that exist therein.
Mercedes-Benz continues to showcase the capabilities of fuel cells and how they can be used in clean transportation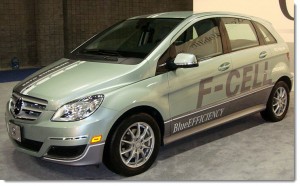 Since 2010, the B-Class F-Cell vehicle has been in daily use among consumers in Europe and America. While the availability of the vehicle is quite limited, it has managed to gain significant traction in many markets. Currently, the vehicle accounts for the majority of Daimler's fuel cell fleet, which is 300 strong. Daimler has some concerns when it comes to fuel cell vehicles, but the company has not yet stifled Mercedes-Benz's plans to commercialize these vehicles in the coming years.
Success of fuel cell vehicles may depend on the availability of hydrogen fuel
Mercedes-Benz engineers are currently examining ways that fuel cell vehicles can be made more efficient without sacrificing their performance. Improvements will be introduced in the next generation of fuel cell vehicles that the company plans to launch. The company plans to have a high-performance, yet highly efficient fuel cell vehicle introduced to the mass market at some point in 2017. The ultimate success of this vehicle will largely depend on the existence of a hydrogen fuel infrastructure.