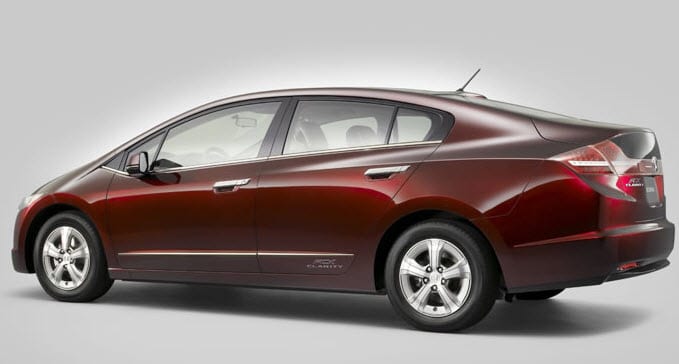 Honda to commercialize hydrogen powered vehicles by 2015
September 24, 2012
Honda has big plans for hydrogen powered vehicles
Honda has been one of the chief supporters of hydrogen transportation for several years. The automaker made headlines when it introduced its FCX Clarity in 2008. Since then, the company has been working on improving its fuel cell technology, hoping to make fuel cells more efficient and fit for use on a large scale. Honda is one of the participants in the European Hydrogen Road Tour, where it is showing off some of its latest work in hydrogen transportation.
CEO Takanobu Ito highlights automaker's plans for the future
Late last week, Honda president and CEO Takanobu Ito gave a speech concerning the company's present and future in Japan. In his speech, It outlined plans to increase sales in the global market, plans that hinge on the commercialization of hydrogen powered vehicles. As part of these plans, Honda has announced that its new hydrogen-powered models will go on sale in the U.S. beginning in 2015.
Fuel cells will help Honda comply with emissions standards
Focus on hydrogen is more than the automakers want to see financial gain in the global market. Honda, as well as other automakers, is being pressured by the world's governments to produce more fuel efficient and environmentally friendly vehicles. Standards coming from these governments compel automakers to develop vehicles that produce significantly lower emissions than current models. The good thing about fuel cells, however, is that they can comply with these standards with no trouble at all because they produce zero emissions. Honda's Ito claims that fuel cell vehicles are the "ultimate, environmentally-responsible vehicle."
Honda expects to see success with new vehicles
Honda's FCX Clarity has been generally well-received by consumers in the U.S. The automaker expects to see more enthusiasm from consumers as it introduces its newer hydrogen powered vehicles. In order for these vehicles to be considered a success, however, there must be a fuel infrastructure capable of supporting them. In the U.S., the only infrastructure capable of supporting the modest commercialization of hydrogen-powered vehicles exists in California.