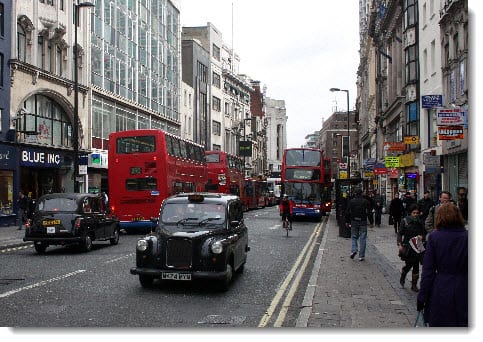 Hydrogen fuel gets more attention from the UK
February 7, 2013

UK continues strong focus on hydrogen fuel
Hydrogen fuel is becoming more and more prominent around the world when it comes to transportation. Fuel cells, which use hydrogen fuel to generate electricity the power the various machinations of a vehicle, have made significant technological strides over the past two years. While some automakers suggest that hydrogen-powered vehicles may not be ready until 2020, the auto industry as a whole is pushing for the development of a hydrogen fuel infrastructure today. The United Kingdom is one of the countries that has been working to promote the adoption of hydrogen fuel as well as the vehicles that may rely on this fuel one day.
Government aims to be a world leader in fuel cell technology
The United Kingdom could one day serve as a global leader in terms of hydrogen fuel cell technology, with half of the nation's vehicle market being comprised of hydrogen-powered vehicles by 2050. Michael Fallon, Minister of State for Business Enterprise, believes that the country is well on its way to reaching this goal and has many initiatives in place to attract automakers and their efforts to promote hydrogen-powered vehicles.
Hydrogen fuel infrastructure road map introduced by consortium
The UKH2Mobility group, a consortium devoted to boost the adoption of hydrogen fuel throughout the United Kingdom, has introduced a "road map" concerning the establishment of a hydrogen fuel infrastructure. The effort to quickly build a comprehensive infrastructure is slated to begin in 2015, but an infrastructure capable of supporting the limited use of hydrogen-powered vehicles is expected to be in place before then. This may make the United Kingdom a much more appealing market to automakers, many of whom are planning to release hydrogen-powered vehicles in 2015.
Capturing the support of consumers may be a challenge
According to UKH2Mobility, approximately 10% of new drivers in the United Kingdom will be receptive to hydrogen fuel. This interest will need to be translated into aggressive sales, however, if hydrogen-powered vehicles are to become the success that the UK government seems to think they will be. The environmental aspects of hydrogen fuel cells and their use in vehicles may be enough to sway the support of environmentally-conscious consumers, but only time will tell whether others will show meaningful enthusiasm for hydrogen-powered vehicles.