Hyundai prepares to launch hydrogen fuel vehicle
November 13, 2013
Hydrogen fuel cells continue to attract attention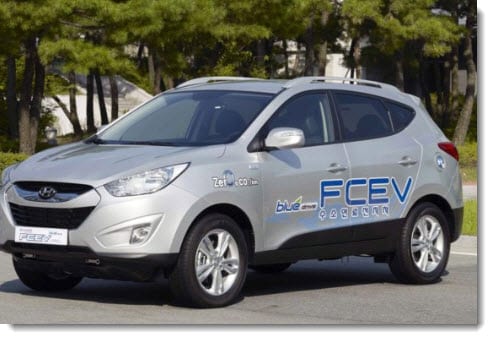 South Korean automaker Hyundai is preparing for the launch of its hydrogen-powered vehicle in 2014. The vehicle is equipped with a hydrogen fuel cell that has been developed by Hyundai itself and the automaker believes that the commercial market is ready for vehicles that diverge from the conventional path. Hyundai will not be the first to release a hydrogen-powered vehicle, but it has become the first to mass produce such a product.
Consumers are not yet convinced of the viability of fuel cells
Hydrogen fuel cells have become quite popular throughout the auto industry, but many consumers have yet to be convinced of their viability in transportation. Many suggest that fuel cells are not capable of being efficient and do not adequately represent a so called clean solution to the emissions problem of conventional transportation. Many consumers are showing favor for battery electric vehicles, but automakers are making a strong push for hydrogen-powered vehicles.
Fuel cell technology may not be a problem
Kwon Moon-sik, President of Research and Development for Hyundai, suggests that there may be many misconceptions when it comes to hydrogen fuel cells and how they can be used in transportation. According to Kwon, fuel cell technology is quite capable, but the real problem with these energy systems lies in the realm of cost and profitability. Fuel cells are notoriously expensive due to their use of platinum, and the cost of developing these energy systems translates into higher vehicle prices. Finding ways to mitigate costs while maximizing profit has been a top priority for Hyundai.
Cost of fuel cells may fall dramatically in coming years
Japanese automaker Toyota predicts that the cost of hydrogen fuel cells will drop by approximately half by 2020. The company has plans to launch a hydrogen-powered vehicle that will cost roughly $50,000. Hyundai's model is expected to be slightly less expensive and will be available before the hydrogen-powered vehicles that other companies plan to bring to the market.