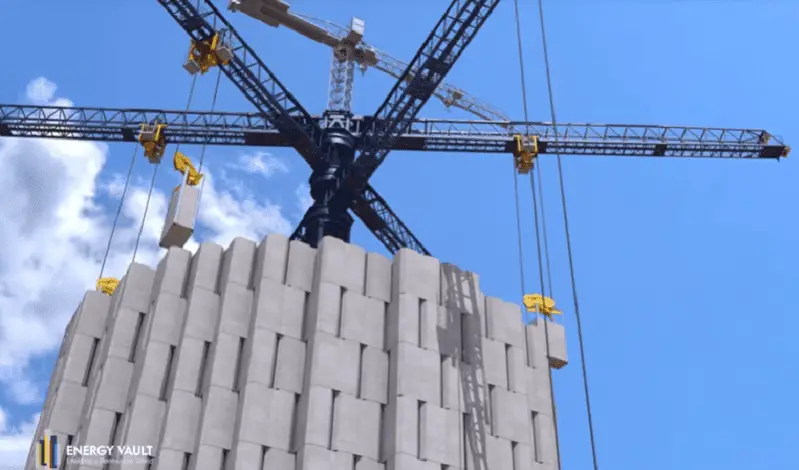 New renewable energy storage solution could cut cost of energy storage in half
November 15, 2018
Energy Vault has come up with a unique grid storage concept.
The Swiss and Southern California startup has developed a renewable energy storage solution using technology based on the principles of pumped hydro storage. Energy Vault claims that its system can cut the cost of energy storage by half or more of the current price, making renewable power cost-effective all day, every day, regardless of whether or not the sun shines or the wind blows.
Stacking concrete blocks can result in long-duration energy.
Presently, nearly all new grid storage deployments are lithium-ion batteries. These energy storage solutions are cost-effective for about 4 to 6 hour durations but they are not economical for ultra-long durations.
This is a growing problem because long-term energy storage solutions are becoming increasingly valuable as more wind and solar infrastructure is built. These renewables provide cheap and eco-friendly but intermittent sources of energy and require long-duration renewable energy storage.
This is where Energy Vault's new system comes in. The company has developed a six-armed crane that stacks concrete blocks with inexpensive and abundant grid power. It drops the blocks down to retrieve electricity when it is needed, offering almost 9 hours of duration if the block is discharged at full capacity.
The renewable energy storage is made possible by an Evie.
More specifically, Energy Vault's unique grid storage concept requires the building of a full-scale plant, called an Evie. This plant would look like a 35-story crane with six arms, which would be surrounded by thousands of manmade concrete bricks, each weighing 35 metric tons.
Once constructed, a fully charged Evie will stack the bricks around itself like a tower. The cranes discharge the bricks, dropping them down, which results in the production of power due to the kinetic energy generated from their fast descent. The standard configuration reportedly delivers 4 MW/35 Mwh of storage. As previously mentioned, this is roughly 9 hours of duration if the bricks are discharged at full capacity.
"We are bringing something to market that, for the first time, will produce baseload power below the cost of fossil fuels, and not just for six hours a day," CEO and co-founder Robert Piconi told GTM in an interview. "We're in a position to accelerate the pace at which the world is going to be able to deploy renewables."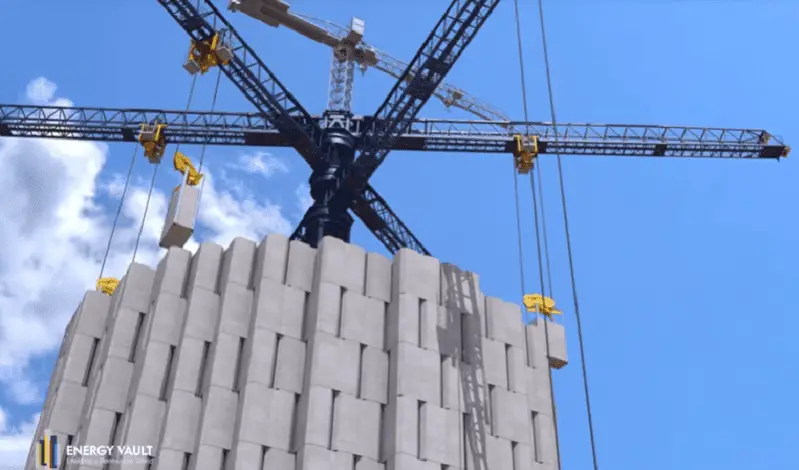 At the moment, the full-scale Evie doesn't yet exist. So far, Energy Vault has managed to build only a demo unit at one-seventh scale. The demo renewable energy storage system, which is currently operating in Switzerland, is being utilized for testing to improve the design.