Solar energy is growing quickly in the US
September 2, 2015
Installed solar capacity is on the rise throughout the United States
The solar energy sector in the United States is beginning to gain significant momentum, largely due to advances being made in clean technology. In 2008, the U.S. had approximately 1.183 gigawatts of installed solar energy capacity. Now, however, the country has more than 21 gigawatts of installed capacity, which is enough to power more than 4 million homes. Advances in photovoltaic technology have contributed heavily to the growth of the solar energy sector.
Homeowners are showing aggressive support for solar power
In the past, solar power had been considered prohibitively expensive. Over the past several years, the cost of solar power has fallen significantly, which has made it easier for solar energy projects to take form throughout the world. As the cost of solar power continues to fall, homeowners are finding it easier to embrace clean power. The residential sector has seen a major increase in the adoption of solar power, with homeowners becoming some of the more enthusiastic supporters of this form of renewable energy.
Residential sector is powering the expansion of solar power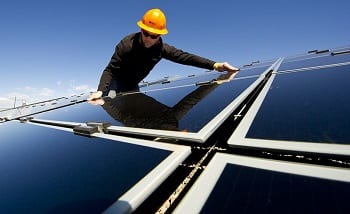 According to a recent report from GTM Research, approximately 72% of the growth that the solar energy market saw in 2014 was due to developers offering more diverse financing options for homeowners. These financing options enabled many homeowners to embrace solar energy without having to deal with the full cost associated with the installation of solar panels. Growth has been somewhat slower in the commercial sector, largely due to the lack of financial support for projects of a certain size.
Large companies show some modest support for solar energy, favoring a wide range of renewable energy solutions
Homeowners are likely to continue driving the adoption of solar energy. Some large companies are beginning to show support for solar power in order to become more environmentally friendly. These companies see significant promise in solar power, but they are not fully committed to this form of energy alone. Several large companies have invested in various forms of clean energy, including wind power.