Trains in the Netherlands to run exclusively on wind energy
September 1, 2015
By 2018 Dutch trains could be entirely powered by wind.
In just three years, the Dutch rail network will operate only on wind energy under a new agreement made between power company Eneco and VIVENS, an energy procurement joint venture made up of Netherlands Railways (NS), Veolia, Arriva, Connexxion, and rail freight firms, reported Railway Technology.
Approximately half of the electric trains in the Neterlands operate entirely on wind power.
According to the Railway Technology report, at present, almost half of traction power on the 2,900km ProRail 1.5kV DC network, out of a total annual consumption of about 1.4 TWh (terawatt hours) – which is equal to the amount consumed by all Amsterdam households – is powered by electricity generated from wind turbines.
This amount is set to increase to 100 percent by 2018, under the new renewable energy contract between Eneco and VIVENS, which is believed to be among the biggest yet signed in Europe.
Prior to the switch to wind energy, the railway released over 500 kilotons of CO2 emissions.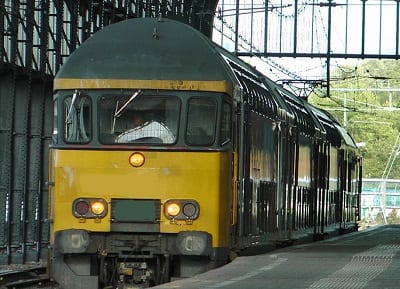 Before running on wind power earlier this year, the Dutch rail network, which transports about 1.2 million passengers daily, released roughly 550 kilotons of carbon dioxide. The goal is to bring this number to zero, which, if everything goes according to plan, could happen in three years.
According to Eneco's account manager, Micheal Kerkhof, the deal could potentially revolutionize how renewable energy is acquired and used, both in the rail sector and in other primary industries.
Kerkhof said that the contract and partnership is unique because an entire sector "decreases its CO2 footprint enormously and sets an example for other sectors to follow." He added that "Mobility is responsible for 20% of CO2 emissions in the Netherlands, and if we want to keep travelling, it is important that we do this without burdening the environment with CO2 and particulate matter."
The deal has many terms, among the terms is to have 50 percent of the NS fleet of electric trains running on wind energy in 2015. This percentage is to increase to 70 percent in 2016 and then up to 95 percent in 2017, with the end goal of a switch to a 100 percent renewable network by 2018.