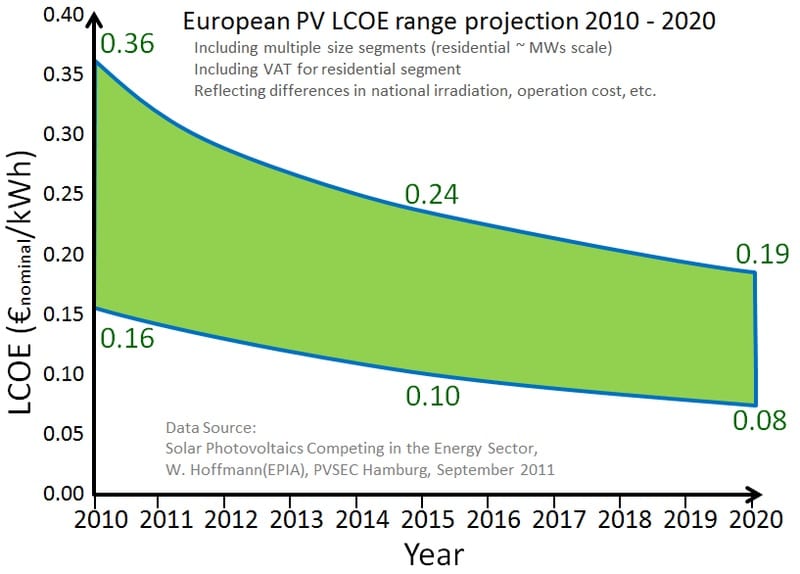 Solar energy may be on track for grid parity in 2014
March 9, 2013

Deutsche Bank predicts grid parity for solar energy in near future
The Deutsche Bank, a global banking and financial services firm based in Germany, has released a new analysis of the solar energy market, offering predictions of where the market will be heading in the coming year. Notably, the firm is predicting grid parity for numerous markets in Europe and Asia. Grid parity has been an elusive goal for the solar energy industry for years, but the Deutsche Bank suggests that 2014 may be the time when prices for solar energy will be comparable, if not wholly equal, to the prices of traditional forms of energy.
Analysis forecasts promising growth
According to the firm's analysis, the solar energy market will experience a 20% year-on-year growth rate over the coming years. This is largely due to the growing demand behind renewable energy and sustainable forms of power. Demand is strongest in countries like the U.S. and China, where solar energy has become something of a staple. In India and Italy, however, solar energy shows the most promise for attaining grid parity, according to the Deutsche Bank.
Grid parity may soon arrive in India and Italy
The firm claims that numerous solar energy projects in both India and Italy are taking form with minimal or no incentives coming from the respective governments of these countries. Thus, these projects are not introducing any financial strain on the governments, leaving the energy generated by these projects relatively free from government monetization efforts. A variety of government policies, such as net metering, are also contributing to the prospects of grid parity. The firm suggests that if small enterprises can keep self-consumption high, solar energy will be competitive with other forms of power.
Solar energy prices continue to be in a state of flux around the world
Solar energy prices have been somewhat volatile over the past few years. Advances in solar technology have lead to more efficiency, but also to higher upfront costs when it comes to solar installations. China's entry into the solar panel market alleviated some of this upfront cost by introducing inexpensive panels to the global market, but this has also sparked trade disputes from the U.S. and Europe that accuse China of intentionally creating an unfriendly environment for solar panel manufacturers in other countries.