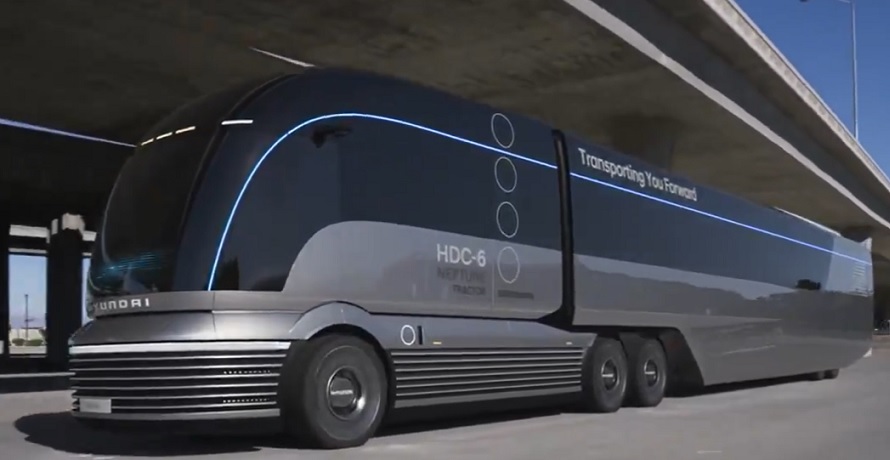 South Korean automaker makes headlines with its Hyundai HDC-6 Neptune truck
November 12, 2019
Hyundai has rolled out an eye-catching fuel cell semi -truck.
The futuristic looking Hyundai HDC-6 Neptune truck recently made an appearance at the North American Vehicle Show in Atlanta. The concept Class 8 fuel cell-powered heavy-duty truck is in line with the automaker's beliefs that zero-emission trucks will play a significant role in decarbonizing the environment.
The hydrogen truck is named after the Roman god of the seas.
The name Neptune was by no means selected at random. The name makes reference to the Roman god of the seas, and seawater could potentially be the world's biggest source of green hydrogen fuel.
The Hyundai HDC-6 Neptune truck is equipped with a hydrogen fuel cell powertrain. As this type of powertrain demands plenty of cooling, the company made sure the truck was provided with a grille that stretches across the full lower portion of the vehicle.
The result is a distinctive image with maximized airflow, according to Hyundai Motor Groups Design Director, Hak Soo Ha. Additionally, the grille concept serves another purpose and integrates the cab's hidden retractable steps.
Combining form and function was the approach that Hyundai took when designing this fuel cell truck. They wanted to develop a wholly unique new solution within the commercial vehicle industry, while also delivering a holistic global approach.
In terms of the truck's Art Deco-style appearance, Hak Soo Ha says inspiration was taken from streamliner railway trains of the mid-20th century. The streamlined design also improves fuel economy.
[#HMG] Introducing the first-ever all-hydrogen Hyundai HDC-6 Neptune truck, showing a possible future of hydrogen fuel-cell commercial vehicles. #Hyundai #NEPTUNE #FCEV #CommercialVehicle #NACVShow2019 pic.twitter.com/aw4a4IvBbR

— Hyundai Motor Group (@HMGnewsroom) November 4, 2019
The interior of the Hyundai HCD-6 Neptune truck seems to be just as impressive as the exterior.
Although real world photos of the interior have not yet been revealed, the concept photos show a cabin that looks far superior in terms of comfort and style compared to today's traditional semi cabins.
There appears to be two captain chairs with a center console between them. The cabin also has seamless intelligent infotainment display and personalized space.
In terms of how it drives, the truck reportedly supports autonomous driving. Moreover, aside from being a zero-emission vehicle, like most hydrogen transportation, it is also very quiet.
Drivers can also benefit from a camera monitoring system equipped with eye tracking tech.
While the Hyundai HDC-6 Neptune truck is only a concept, the automaker sees the truck as marking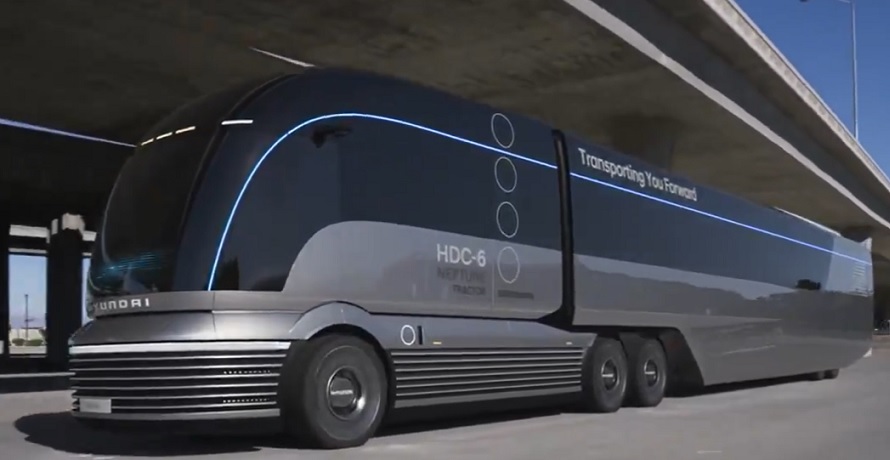 the start of a new era for the transport industry. This innovative truck, with its clean sustainable technologies is built for the future.