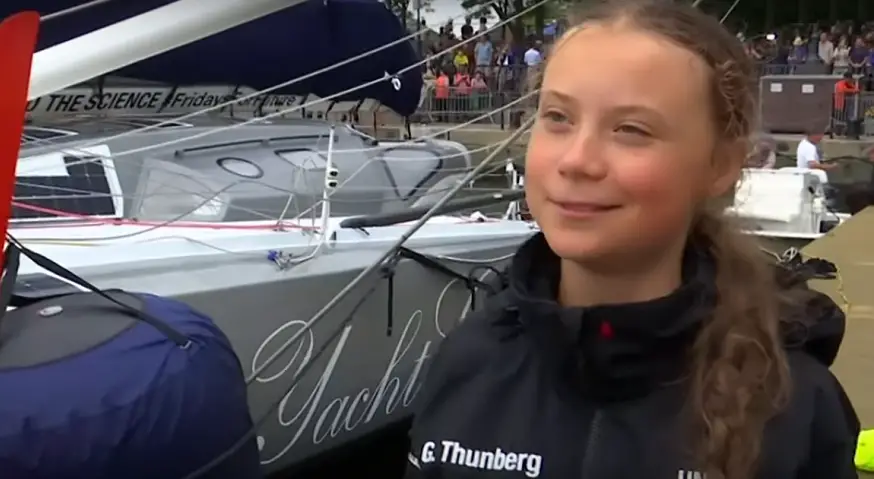 Teen climate activist Greta Thunberg arrives in New York City via zero-emission sailboat
August 30, 2019
The sixteen-year-old from Sweden sailed across the Atlantic to attend a global warming conference in New York.
Greta Thunberg left Plymouth, England, two weeks ago in a zero-emission sailboat and arrived to a cheering crowd that lined the Hudson River promenade as she and her crew were escorted into a lower Manhattan marina on Wednesday, August 28. Thunberg will attend and speak at the United Nations Climate Action Summit on September 23, in New York.
Thunberg is world-known for her activism and spreading climate change awareness.
The young climate activist has made headlines around the world for her weekly Friday school strikes to spread climate change awareness, and for her no-nonsense speeches to world leaders, demanding for action against global warming to be taken now.
Greta Thunberg refused to fly to New York because of the carbon that would be released from the plane travel. Even throughout her travels in Europe, she takes clean transportation, including electric vehicles.
She noted that the ocean trip was not as uncomfortable as she thought it would be and that she did not get seasick. That being said, while the boat – The Malizia II – was powered by renewable energy, it was far from having what the average person would call comfortable accomodations.
The Malizia II wasn't built for trans-Atlantic trips. It is designed for high-speed, offshore racing and is equipped with onboard electronics powered by underwater turbines and solar panels. Because the 60-foot racing yacht requires weight to be kept to a minimum, it has no toilet (only a bucket), no fixed shower and no windows below deck. There is only a small gas cooker to heat up freeze-dried food.
Greta Thunberg will join the world leaders at the Climate Action Summit who will present plans to lower greenhouse gas emissions.
Thunberg's New York City arrival was eagerly anticipated. In addition to there being several people to cheer her arrival, her boat was accompanied into New York by a flotilla of 17 sailboats that were organized by the United Nations. Each boat represented 17 UN goals, such as action to prevent climate change, and goals to end poverty and preserve the environment by 2030.
"It is insane that a 16-year-old would have to cross the Atlantic Ocean to make a stand," Thunberg said, CTV News reports. "The climate and ecological crisis is a global crisis, the biggest crisis that humanity has ever faced, and if we don't manage to work together and to co-operate and to work together despite our differences, then we will fail."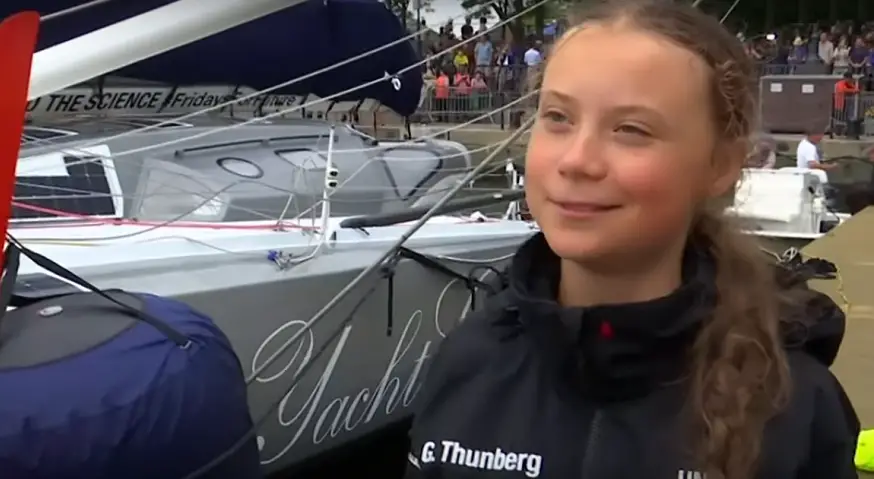 Greta Thunberg did stress, however, that crossing the Atlantic as she had "is not something I want everyone to do."