Toyota and Mazda may be working together on hydrogen fuel cell technology
May 13, 2015
Automakers may be expanding their technology partnership, with a focus on fuel cell technology
Japanese automakers Toyota and Mazda are currently in negotiations to expand their technology partnership, which could have implications for the hydrogen fuel cells that both companies are interested in. Automakers are becoming more involved in the clean transportation space, looking to comply with new emissions regulations that have proven to be quite strict. In order to comply with these regulations, automakers have been developing fuel cell vehicles, which consume hydrogen fuel and produce no harmful emissions.
Companies are beginning to work together to improve hydrogen fuel cells
Making a fuel cell vehicle is not a simple task. Automakers have been working to better understand fuel cell technology so that they can effectively make clean vehicles that produce no harmful emissions. In order to improve fuel cell technology, some automakers have begun working together, sharing the burden of research as well as the financial responsibilities associated with this research. Technology partnerships are not uncommon in the auto industry, and more companies are beginning to work together in order to overcome the challenges facing fuel cell technology.
Mazda may gain access to fuel cell technology developed by Toyota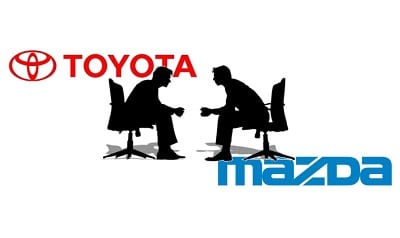 Mazda and Toyota already have a technology partnership in place. Toyota is considering bringing in fuel cell and hybrid technology into the partnership. Through the expanded partnership, Mazda would gain access to Toyota's hydrogen fuel cell technology, as well as the hybrid technology that the company uses. Toyota would receive fuel-efficient engine technology from Mazda through the automaker's SkyActiv property.,
Partnership may help resolve the problems of fuel cell vehicles
The partnership could potential lead to Mazda developing a fuel cell vehicle at some point in the future. Toyota believes that fuel cell vehicles have a great deal of promise when it comes to clean transportation. It may take years before these vehicles become more common and suitable for the consumer market. Currently, hydrogen fuel cells are known as being extremely expensive, which makes them less attractive to consumers and those interested in clean transportation.