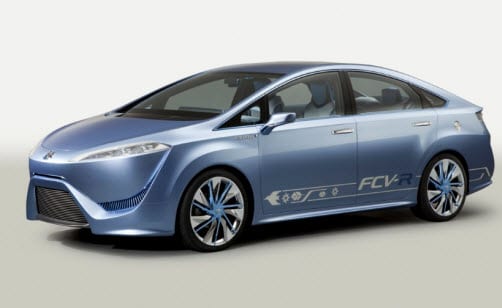 Toyota to become more aggressive with its use of hydrogen fuel in the future
June 19, 2012

Toyota re-enters the motor sports scene with hybrid racers
Famed Japanese automaker Toyota has long held an interest in hydrogen fuel. The Pruis hybrid managed to attract praise for its use of hydrogen fuel. That had been the extent of the company's support of fuel cells for several years. Recently, however, Toyota re-entered the motor sports arena with the introduction of two hybrid racecars that each feature a hydrogen fuel cell. The vehicles made their debut at this week's 24 Hours of Le Mans event in France. During the event, Toyota's vice-chairman, Takeshi Uchiyamada, announced that the company will become more aggressive with its use of hydrogen fuel cells in the future.
FCV-R vehicle slated for 2015 release
According to Uchiyamada, Toyota plans to release a new hydrogen-powered vehicle in 2015. The vehicle is tentatively called the Toyota FCV-R. The automaker has been keen to show off the concept of this new vehicle at various auto shows around the world. The vehicle is powered by a single hydrogen fuel cell that has been designed by Toyota. The FCV-R is expected to see limited release next year, but may expand into more markets based upon its success.
Toyota continues work to combine hydrogen fuel cells with batteries
Hydrogen fuel cells have become one of Toyota's most promising tools in its pursuit to incorporate more alternative energy into its business. The company has a keen interest in combining hydrogen fuel cells with lithium-ion batteries. It believes that hybrid electric vehicles present an economic solution for a new generation of drivers who are growing more concerned for their environment and their own finances.
Mass production of hydrogen-powered vehicles to begin this decade
The company has also announced that it will begin mass production of hydrogen powered vehicles within the decade. Toyota is not the only car manufacturer developing vehicles that make use of hydrogen fuel cells, but it is one of the few that has planned for mass production within a certain time frame.
Related article(s) and resources:
http://www.caradvice.com.au/177707/toyota-fuel-cell-hybrid-car-coming-in-2015/