Toyota shows off hydrogen fuel cell car in India
February 25, 2016
Toyota's Mirai may be coming to India in the near future
Toyota has shown off its new fuel cell vehicle, called the Mirai, at the 2016 Indian Auto Expo. The automaker has been working to promote the vehicle for some time, believing it to be the first step in a long clean transportation journey. The Mirai is equipped with a hydrogen fuel cell, which generates electrical power without also producing harmful emissions. The Mirai has been available in Japan since December of 2015, and is expected to make its way to new markets in the near future.
US agency rewards the Mirai with a high fuel efficiency rating
The U.S. Environmental Protection Agency has granted the Mirai a very high fuel efficiency rating. The federal agency reports that the vehicle can travel a record-breaking 312 miles on a single tank of hydrogen fuel. This makes the Mirai one of the most efficient vehicles in modern history, but it is not the only one expected to achieve this efficiency rating. Several other automakers are developing fuel cell vehicles that will likely be as, if not more, efficient as the Mirai when they are released.
India is becoming a promising clean transportation market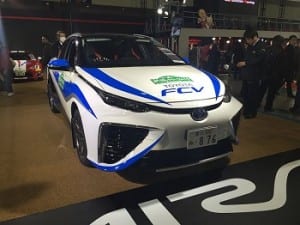 India may soon become a very attractive clean transportation markets. The Indian government has been focusing more of its efforts on supporting renewable energy in an effort to reduce harmful emissions. The transportation sector is responsible for a significant portion of these emissions, however, and the government wants to ensure that more clean vehicles are on the roads in the near future. Supporting fuel cell vehicles may become the ideal way to reduce harmful emissions, but conventional electric vehicles may be more attractive to consumers due to their lower cost and infrastructure support.
Tata Motors showcases its own fuel cell vehicle in India
Toyota is not the only company to show off a fuel cell vehicle at the 2016 Indian Motor Show, of course. India's leading automaker, Tata Motors, is also showcasing a fuel cell vehicle, called the Tata Magic Iris Ziva. The small passenger vehicle features an air-cooled fuel cell stack, which produces a continuous 3.5 kilowatts of electrical power. The small size of the vehicle makes it more affordable than its larger counterparts, thus more attractive to consumers.