University of Birmingham accepts delivery of new fuel cell vehicle from Hyundai
May 10, 2016
University accounts for one of the first deliveries of fuel cell vehicles in the UK
The University of Birmingham has accepted one of the first deliveries of fuel cell vehicles in the United Kingdom. These vehicles come from Hyundai, which released its ix35 fuel cell vehicle some time ago. Hyundai has established a strong foothold in the clean transportation space, making efforts to aggressively promote the capabilities of hydrogen fuel cells and how these energy systems can be used in transportation to make vehicles more environmentally friendly.
New fuel cell vehicle has been leased through Lex Autolease
Hyundai has leased its new fuel cell vehicle to the university through Lex Autolease, one of the largest fleet management companies in the United Kingdom. Currently, a small number of fuel cell vehicles are being trialed in the country to determine their viability and interest from consumers. While consumers have shown favor for clean transportation, fuel cell vehicles have limited infrastructure support. The low number of hydrogen fuel stations available to consumers has slowed the adoption of fuel cell vehicles, but this may change in the coming years as more stations become available to the public.
Hydrogen fuel will be provided by an onsite hydrogen station originally unveiled in 2008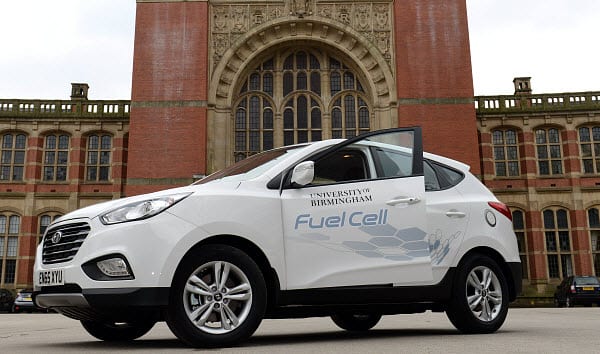 The new vehicles will be used for transportation for university staff and will operate as part of the university's chauffeur service for visitors. Fuel will be provided by an onsite station, which was unveiled in 2008 and has been supporting research and development efforts being made on fuel cell technology. The University's Center for Fuel Cell and Hydrogen Research has been working on ways to demonstrate the capabilities of hydrogen fuel cell systems, and the various instances in which these energy systems can be used effectively.
Clean transportation is gaining momentum in the United Kingdom
The University of Birmingham already employs 20 electric vehicles, which comprise approximately one-fifth of its overall fleet. Embracing clean transportation has been a priority for many organizations in the United Kingdom, especially as the government begins to focus more heavily on renewable energy and better environmental standards. Hyundai, and other automakers, have shown that they are eager to encourage the adoption of clean vehicles, especially those that use hydrogen fuel cells to generate the power they need.