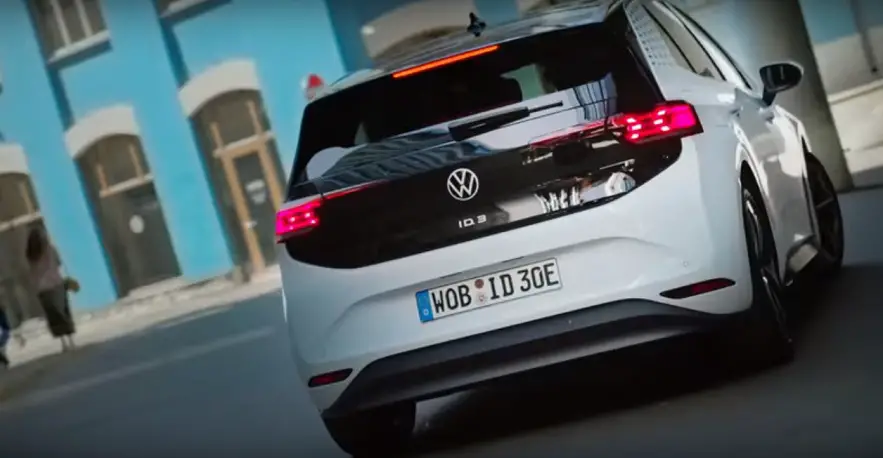 Volkswagen ID.3 electric car is the first model to be unveiled from its new EV ID brand
September 17, 2019
Volkswagen is calling its ID.3 a "completely new generation" of pure electric vehicles (EVs).
The Volkswagen ID.3 electric car, which has been unveiled at the 2019 IAA International Motor Show in Frankfurt, is more than just the first of its new all-electric ID brands. The car, which the company says is a "complete new generation" of pure electric vehicle, also marks the start of the German automaker's ambitious plans to sell 1 million electric vehicles every year by 2025.
The ID.3 VW is built on the company's MEB vehicle platform.
While this isn't the first time that Volkswagen has dabbled in the electric vehicle market, its previous electric cars, such as the Golf-E, were battery-electric conversions of gas and diesel models. The Volkswagen ID.3 electric car, on the other hand, is the company's first EV based on its electric MEB platform, and has been in development for the past three and a half years.
The MEB platform was first introduced in 2016 and is a flexible modular system. The system was developed to produce electric vehicles that Volkswagen says will make these vehicles more efficient and cost-effective. VW's eventual portfolio of EVs built on this platform will include the ID.3 and over 20 other full-electric models, according to a report from TechCrunch.
The Volkswagen ID.3 electric car could become a mass-market EV.
At first glance, the ID.3 might look like a Golf, as it is a four-door, five-seater hatchback that's as long as a Golf. However, this is where the similarities start to end. The special edition version of the ID.3 – ID.3 1ST – which is the first version of this EV to be released, has a number of features including a panorama tilting glass roof, interactive LED lights that flutter when the driver approaches a parked vehicle.
Using a charging output of 100 kilowatt hours (kWh), the ID.3 EV can be charged within 30 minutes for a range of about 290 kilometers (km). However, fast-chargers could potentially reduce this standard charge time by a notable amount.
The ID.3 will be available with three battery options:
• 45kWh – Range of 330 km
• 58kWh – Range of 420 km
• 77kWH – Range up to 550 km
The baseline ID.3 model will be priced at approximately €30,000. That said, the special edition version, which is the first to be released, will have a starting price of under €40,000. All 30,000 special edition vehicles, which also include free charging for one year up to 2,000 kWh, have been reserved in Europe.
The Volkswagen ID.3 electric car will be sold only in Europe. The first VW EV to hit North America will be the ID Crozz, which should be coming to the U.S, by the end of next year (2020), according to Tech Crunch.