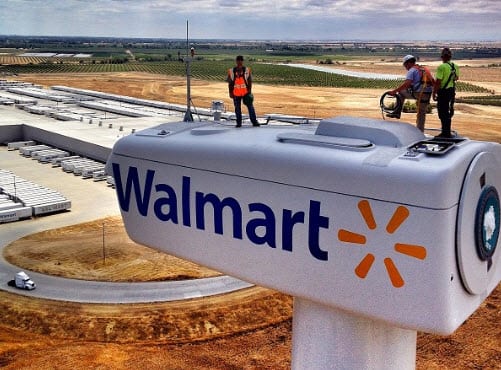 Wal-Mart expands solar energy in Hawaii
March 11, 2013

Hawaiian stores equipped with solar energy systems
Wal-Mart has been making greater efforts to become more environmentally friendly in recent years. The massive retailer has been making changes to its corporate policies to address issues concerning efficiency and emissions and has been making strong progress in adopting renewable energy. In Hawaii, Wal-Mart has partnered with SunEdison to incorporate new solar energy systems into three of its stores. These stores are located in Kapoley, Kailua-Kona, and Kahulai, and represent a step forward in the companies ultimate goal of becoming 100% reliant on renewable energy in the future.
Wal-Mart continues showing strong support for renewable energy
Solar energy has become one of the most favored forms of renewable power in the U.S. Large companies are benefiting from subsidies offered by the federal government that are designed to encourage their adoption of solar energy, reducing the fairly substantial upfront costs that are associated with solar power. While the retailer has enjoyed these federal subsidies, Wal-Mart itself has invested heavily in the field of solar energy, as well as wind power.
New energy systems will help reduce emissions
Together, the solar energy systems for the stores in Hawaii represent more than 400,000 kilowatt-hours of electrical power. Wal-Mart expects that these energy systems will displace 9,600 tons of carbon emissions over the next decade. The stores are part of the retailer's expanding efforts concerning renewable energy, and are just one part of a larger initiative coming from the company. Wal-Mart is currently supporting several kinds of renewable energy projects around the world in an effort to reduce its reliance on fossil-fuels.
240 energy projects supported by Wal-Mart worldwide
More than 240 renewable energy projects are currently being supported by Wal-Mart. The company has a strong focus on wind and solar energy, but has been showing some enthusiasm for hydrogen fuel in the materials handling sector. Wal-Mart has managed to make itself an exemplar in the retail industry when it comes to renewable energy, and the company plans to continue investing in sustainability well into the future.