Wind energy satisfies 126% of electrical needs in Scotland during October
November 6, 2014
New data shows that renewable energy has reached a major milestone in Scotland
Scotland's renewable energy sector saw a major victory in October, according to data from WeatherEnergy. The organization has released information concerning the country's clean power production, showing that Scotland reached a significant milestone last month that highlights the country's ongoing push to embrace clean energy as a replacement for fossil-fuels. The data identifies October as a "bumper month" for Scotland, noting that renewable energy was able to satisfy the vast majority of the country's power demand during that month.
Solar power has contributed to energy victories throughout the country
The data shows that solar energy contributed heavily to satisfying the country's demand for electricity. In several large cities, homeowners were able to satisfy their energy and hot water needs by using solar power systems installed on their properties. Solar power has become particularly popular among homeowners thanks to government incentives that have encouraged its adoption. As homeowners begin to see more savings by using solar energy, more are likely to embrace this form of power.
Wind energy satisfies the entirety of Scotland's energy demands last month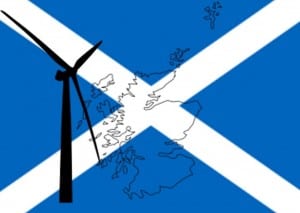 Wind energy, in particular, saw a significant victory last month. According to WeatherEnergy, wind generated 126% of the country's energy needs, producing enough electricity to power more than 3 million homes. The country's wind projects were able to produce 982,842 megawatt-hours of electrical power last month, helping offset some of the pressure that was placed on Scotland's energy infrastructure after several nuclear power plants were forced to shut down.
Wind power is considered one of the most favored forms of renewable energy in Scotland, followed by solar energy
Scotland is currently home to one of the most attractive wind energy markets in the world. The Scottish government has been investing heavily in the wind sector, particularly where offshore projects are concerned, and has been introducing incentives to encourage energy developers to bring their projects to the country. Scotland has also been supportive of solar power, backed by the initiatives that have been launched by the United Kingdom.