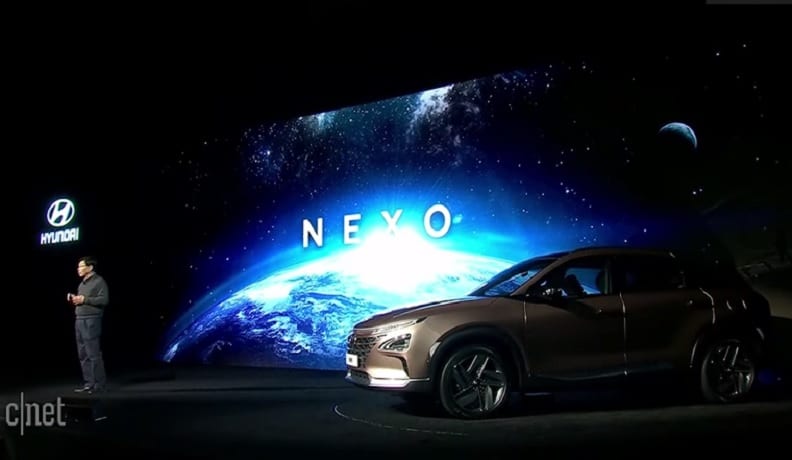 Automaker has revealed the name of its new fuel cell vehicle
January 10, 2018
Automaker has revealed the name of its new fuel cell vehicle
Hyundai has revealed the name of its next fuel cell vehicle. Called NEXO, the new car represents the automaker's progress in embracing clean transportation. NEXO will be equipped with advanced fuel cell technology as well as several other improvements. Hyundai will make NEXO its flagship clean vehicle, highlighting the company's ongoing plan to become more environmentally friendly and embrace clean energy. Hyundai plans to release no fewer than 18 clean vehicles by 2025.
Hyundai believes that hydrogen fuel is the future
Hyundai Vice Chairman Dr. Woong-chul Yang notes that hydrogen has become a priority for the company. The automaker was among the first to bring a fuel cell vehicle to the market in the form of its ix35. The company has been working to improve fuel cell technology in order to make these energy systems more efficient, less expensive, and more capable of generating electrical power. Hyundai intends to officially launch the NEXO early this year, taking advantage of growing interest in clean transportation.
NEXO will be equipped with advanced fuel cell technology
NEXO will be able to travel some 370 miles on a single tank of hydrogen fuel. This is 105 more miles than the ix35 was able to travel. The vehicle's overall performance has also been improved. The NEXO's fuel cell stack and battery have a higher net power than the technology used by the ix35. The vehicle is also lighter and comes equipped with an advanced hydrogen storage system. Overall, Hyundai believes that the NEXO represents the latest step forward in its ongoing efforts to establish a strong foothold in the clean transportation space.
Hyundai will face competition from other companies that are developing fuel cell vehicles
Hyundai is the first major automaker to bring a second generation fuel cell vehicle to the market. The company will be facing major challenges, however, particularly from its competition. Several other major automakers have plans to launch their own fuel cell vehicles in the near future. Toyota has already found significant success with its own fuel cell vehicle and will be looking to bring a new car to the market in the near future.