MENA region supports solar energy
January 22, 2014
Investments in solar power throughout the MENA region are growing at a rapid pace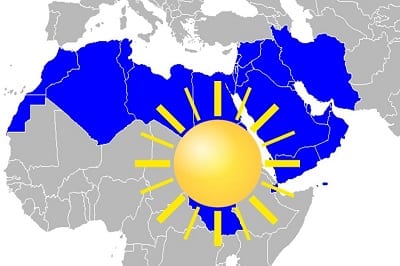 Investments in renewable energy from the MENA region (Middle East and North Africa) have been growing at a rapid pace. Several countries in the MENA region have come to show a great deal of favor for solar power. Regional governments are pushing for the adoption of clean energy because of its economic prospects. While solar development is often an expensive endeavor in itself, the economic benefits that can be gleaned from solar adoption are believed to outweigh the costs associated with its development.
MENA region to feed $50 billion into the solar sector by 2020
The Middle East Solar Industry Association has released a report that suggests that more than $50 billion worth of investments will be made in the solar energy sector by 2020. The report predicts that more than 37 gigawatts worth of clean power will come online in the MENA region over the coming years. Much of this new energy capacity is expected to come from the various solar projects that are already under development in several countries.
Saudi Arabia expected to be the region's leading solar market by 2020
The report indicates that Saudi Arabia is the MENA region's largest and most promising solar market. The country plans to have more than 23 gigawatts of installed renewable energy capacity by 2020 and much of this capacity will be provided by solar energy systems. The report notes that Morocco, Egypt, and Algeria also have very ambitious plans when it comes to solar energy and these countries have been investing in new solar projects quite heavily.
Countries look for alternatives to fossil-fuels
Saudi Arabia is one of the largest suppliers of oil in the world, but the country's government has come to believe that fossil-fuels are hazardous to the environment. While the country does not have plans to reduce its oil production operations, Saudi Arabia intends to generate a greater portion of its electrical power from solar energy in the future rather than derive this energy from fossil-fuels. Several other countries in the MENA region have the same plan, suggesting that fossil-fuels may be damaging the environment.