St. Lucia sets sights on geothermal energy
February 5, 2014
St. Lucia government has begun taking an aggressive approach to renewable energy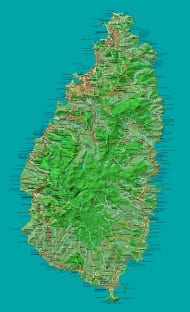 St. Lucia has begun exploring the potential of geothermal energy as several of its neighbors in the Eastern Caribbean begun using this form of renewable energy as a replacement for fossil-fuels. Dominica, Nevis, and Montserrat have been looking into the capabilities of geothermal power for some time and their interest in this form of energy is beginning to grow more aggressive and expand throughout the Caribbean. Renewable energy represents a significant degree of economic promise for island nations, as domestic energy systems would remove the need for fossil-fuels being delivered from other countries.
Government teams with World Bank in order to develop geothermal potential
The Ministry for Sustainable Development, Energy, Science, and Technology notes that the government's interest in geothermal power is quiet aggressive. The government is not only interested in learning what benefits can be had by tapping into geothermal power, it also wants to see a working geothermal energy system developed as soon as possible. The country has teamed with the World Bank in order to get geothermal projects up and running. Thus far, World Bank analysts suggest that the geothermal potential of St. Lucia is very promising.
Exploratory drilling relies on studies conducted at geothermal power facility
Currently, the government is involved in exploratory drilling in the Piton Management Area, where geothermal power projects are expected to take root. Exploratory drilling is being guided by studies that have been conducted at a geothermal facility located in Sulphur Springs. Studies at this facility are also being used to promote the benefits of geothermal energy, particularly its potential ability to reduce the country's need for fossil-fuels significantly over the coming years.
Island nations continue to show favor for renewable energy
Island nations typically spend a great deal of money when it comes to energy derived from fossil-fuels. This is because oil and coal must be transported via sea, which itself is a costly endeavor. The price of fossil-fuels has been on the rise for some time, placing several island nations under some economic strain. As such, many have begun turning to renewable energy as a way to reduce their energy costs.