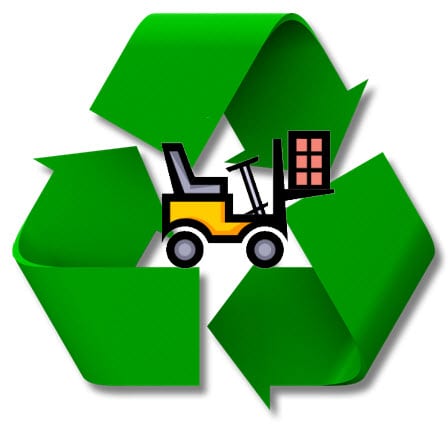 Ace Hardware embraces hydrogen fuel
April 13, 2013

Hydrogen fuel continues to generate traction in materials handling
Hydrogen fuel cells are finding a great deal of success in the materials handling space. Materials handling has long been dominated by the battery sector, with forklift trucks and other equipment drawing the energy they need from lead-acid or lithium-ion batteries. Because these vehicles operate primarily indoors, these energy systems were considered the best option due to the fact that they produce no harmful emissions. Over the past few years, hydrogen fuel cells have been showing that they can exceed the needs of these vehicles and are less expensive to maintain and fuel.
Ace Hardware acquires fuel cells from Plug Power
Ace Hardware, a leading retailer of hardware products, has announced that 65 hydrogen fuel cell units from Plug Power, a leading developer of hydrogen fuel cells, will be put to use at a new facility taking form in Wilmer, Texas. The fuel cells will be used to power forklift trucks that are being manufactured by Crown Equipment. These trucks are to be used at the facility when it is opened in early 2014. The fuel cells provided by Plug Power come from the company's popular GenDrive line of products.
Fuel cells expected to perform better than traditional batteries
The GenDrive hydrogen fuel cells can be fueled in less than two minutes, which is expected to increase productivity significantly. Traditional lead-acid batteries often take hours to fully charge. Retailers typically keep a large stock of batteries in supply so as to mitigate the time requirements associated with charging depleted batteries, but changing batteries can be a time consuming process in and of itself. Many retailers have safety protocols in place that make changing batteries a labor intensive endeavor, as batteries must be removed and stocked before they can be charged. Batteries can, of course, be charged while connected to a forklift truck, but the vehicle will be inoperable while it is being charged. Hydrogen fuel cells can be fueled as simply as one would fuel a conventional vehicle.
Ace Hardware could see increased productivity and lower energy costs in the future
Plug Power suspects that Ace Hardware will see a significant increase in productivity and a dramatic decrease in its energy bills through its use of hydrogen fuel cells. These are two of the reasons that Ace Hardware has chosen hydrogen fuel cells. Another is the company's continued focus on attaining sustainability through the use of renewable energy and the adoption of energy efficiency practices.