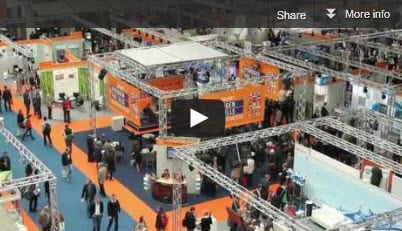 Group Exhibit Hydrogen + Fuel Cells in 2013
December 14, 2012
19th Group Exhibit Hydrogen + Fuel Cells coming to Germany next year
Hydrogen fuel is gaining momentum around the world thanks to the promising technological innovations that have been made by the fuel cell industry. Next year, these innovations will be on display at the 19th Group Exhibit Hydrogen + Fuel Cells event, which will be held in Hanover, Germany, as part of the Hanover Messe industrial fair. The Group Exhibit Hydrogen + Fuel Cells is the largest fuel cell technology exhibition in Europe and attendees will be able to get a close look at emergent technology that could revolutionize the energy business.
150 companies to show off their innovative fuel cell technologies
Approximately 150 companies within the fuel cell industry from 25 countries will attend the event in order to show off their developments. These companies will host several demonstrations during the Group Exhibit Hydrogen + Fuel Cells in order to show off the capabilities of these technologies. One of the primary focuses of next year's event will be hydrogen fuel production and the use of hydrogen as a storage mechanism for other forms of alternative energy, such as solar and wind.
On-site fuel production and hydrogen-powered vehicles to be demonstrated
The Group Exhibit Hydrogen + Fuel Cells event will include a Ride + Drive sector where hydrogen-powered vehicles will be displayed. In this area, on-site hydrogen fuel production technology will be demonstrated. Refueling technologies for hydrogen-powered vehicles will also be on display. Some 100 interviews and 50 technical presentations will also take place during the event, all designed to provide attendees with as much information on fuel cell technologies as possible.
Event may spark more support for fuel cell industry
Hannover Messe is the world's largest industrial fair, attracting hundreds of thousands of visitors each year. The Group Exhibit Hydrogen + Fuel Cells has long been an event where the very latest in fuel cell technologies can be found on display. Events such as these often provide the fuel cell industry with strong exposure that can gain participating companies a great deal of attention from investors around the world.