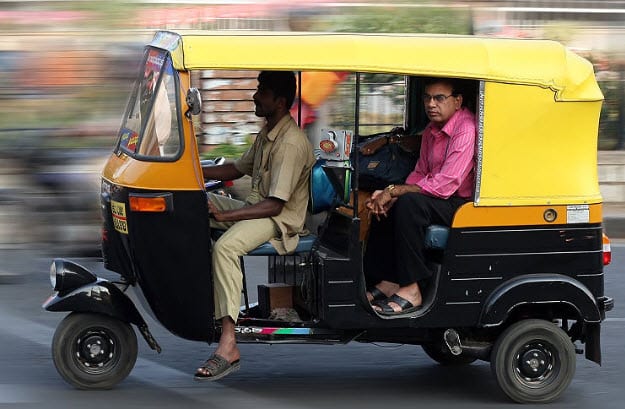 Hydrogen powered autorickshaws making the streets of Delhi cleaner
October 5, 2012

*This image is a regular autorickshaw, not a hydrogen powered autorickshaw
Hydrogen powered autorickshaws could help solve the emissions problems of India
Throughout India, autorickshaws transport people and goods from location to location. In the city of Delhi, tens of thousands of these autorickshaws operate at all hours of the day. They represent an important piece in the complex public transportation network of the city. Like buses and cars, the autorickshaws use conventional fuel to power themselves. As such, they contribute to the pollution problem of Delhi and the carbon emissions of India as a whole. In January, new kinds of autorickshaws began appearing on the roads of Delhi, powered by hydrogen fuel cells. These hydrogen powered autorickshaws could help make Delhi's air cleaner.
Rickshaws developed by Indian Institute of Technology
These hydrogen powered autorickshaws were developed by researchers at the Indian Institute of Technology in Delhi. Researchers built the hydrogen fuel tanks the rickshaws would use and the fuel cell that would convert hydrogen gas into electricity to power the vehicle's motor. There are now 15 hydrogen powered autorickshaws in Delhi, each emitting nothing more than water vapor and oxygen from their tailpipes.
Project aims to address emissions at its most fundamental level
These vehicles are the culmination of a three-year, $1 million project, which was composed of several international parties, including a UN development agency. The project aims to address the growing need for India to address the issue of emissions. The country is currently undergoing something of an industrial revolution, powered almost entirely by fossil-fuels. As such, India is responsible for a significant portion of the carbon emissions that are being released into the world. While solving the problems of the entire country's emissions may be a gargantuan undertaking, starting at the very foundation of the issue may be an appropriate strategy. Thus, the project set its sights on transportation.
Hydrogen fuel cells may be a promising addition to the country's transportation system
The hydrogen powered autorickshaws are meant to address the issue of carbon emissions on the most basic level. Transportation is of vital importance in Delhi and many people rely heavily on the public transit system. By introducing hydrogen fuel cells into this network, emissions could be significantly reduced. The economic benefits may also be an alluring factor, as hydrogen fuel is generally less expensive to produce than petroleum and can be generated on-site rather than shipped in from a foreign source.