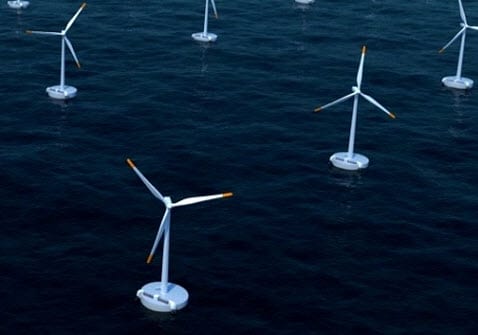 New offshore wind energy platform showed off by MODEC
March 14, 2013

MODEC unveils new offshore wind energy system
MODEC, a Japanese general contractor specializing in the engineering and installation of floating production systems, has unveiled a new offshore wind energy system that it calls SQWID. The system is billed as a floating wind and marine tidal power platform that will help address the energy concerns of countries interested in breaking away from fossil-fuels. Offshore wind is quite popular with island nations, such as Japan and the United Kingdom, and MODEC believes that combining offshore wind with tidal power could make for a very attractive clean energy system.
System makes use of Darrieus wind turbines
SQWID is equipped with a Darrieus wind turbine, which is significantly different from traditional, bladed turbines. The Darrieus wind turbine is a type of vertical axis turbine equipped with aerofoils. These turbines are often considered just as capable as more conventional models when it comes to generating electrical power, but concerns regarding their durability and practicality abound. The SQWID platform is also equipped with a tidal turbine that generates electrical power based on the tidal forces of the ocean.
Mobile platform unable to meet the energy needs of large countries
SQWID is not designed as a stationary wind energy system. The platform is capable of moving, ideally through shallow waters, in order to take full advantage of tidal currents and the strong winds that can be found at sea. MODEC believes that the platform is suitable for both standard and isolated island nations, though not as a primary energy source. SQWID is not designed to accommodate the energy needs of an entire country, rather acting as an ideal emergency energy system that can meet the energy needs that arise in the wake of a natural disaster.
Offshore wind energy gaining popularity
Though SQWID is not designed to provide energy for a large populace, the concept of offshore wind energy has been gaining popularity because it has to potential to do just that. Onshore wind energy systems are able to generate large quantities of power, but onshore winds are typically weaker than those found at sea, which can lead to periods where winds are not strong enough to power turbines. At sea, wind currents are unrestricted by geography, making them very strong and consistent.