Solar energy auction attracts major attention in India
February 5, 2014
Solar auction succeeds in attracting the interest of prominent energy developers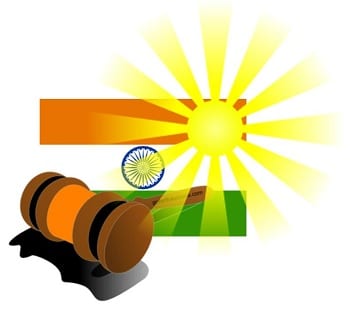 India's second round of solar auctions has closed after seeing a great deal of interest from prominent energy developers from around the world. The country had put 750 megawatts worth of solar opportunity up for auction, seeking developers that had innovative ideas concerning the country's need for renewable energy. These auctions are meant the boost the solar energy capacity of the country and generate more economic activity. As new projects begin development, new jobs are created for those that need them.
More than 2,000MW worth of applications came from energy developers
While 750 megawatts was made available through the auction, India saw more than 2,000 megawatts worth of applications coming from interested energy developers. The Jawaharlal Nehru National Solar Mission, India's largest solar energy initiative saw 68 bids from 58 energy developers concerning 122 potential projects. Bidding developers were only able to be allotted 100 megawatts for their projects, but several of the largest energy developers submitted bids for projects that sought significantly more capacity.
Ambitious developers aim to bring their solar energy projects to India
The developers that have won their bids have not yet been announced and the Jawaharlal Nehru National Solar Mission is expected to announce the winning developers by the end of February. It is not yet clear when the winning developers will begin working on their new projects, but some of the smaller projects are expected to begin development this year, with some likely managing to begin producing electrical power by the end of 2014.
India continues to put a great deal of focus on solar power for economic and environmental prosperity
India has taken a strong interest in solar energy. The country is working to distance itself from fossil-fuels in the hopes of reducing its energy costs while also becoming more environmentally friendly. New solar projects are expected to produce economic activity as well. Another solar auction is expected to be held by the Jawaharlal Nehru National Solar Mission in May of this year with another 1,000 megawatts worth of capacity being made available to interested developers.