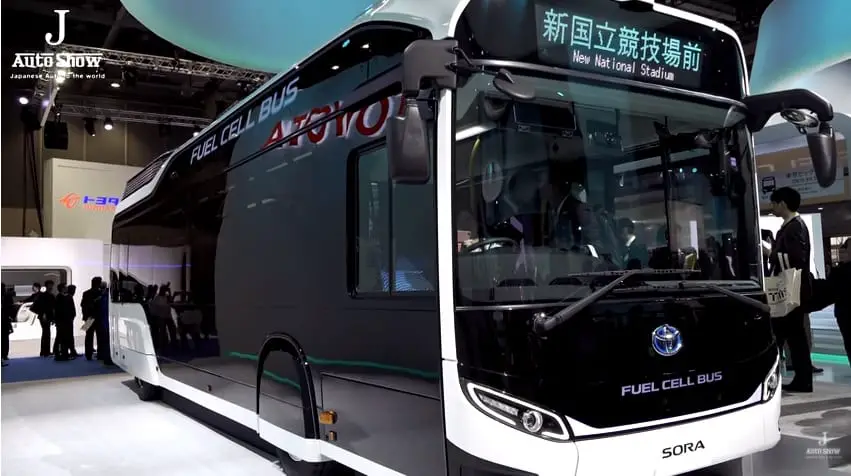 Toyota Sora is now being sold in Japan
May 18, 2018
Toyota begins selling its new hydrogen-powered bus in Japan
Japanese automaker Toyota has begun the production and sale of its new hydrogen-powered bus, called Sora. The bus has only been launched in Japan and there are just over 100 units currently available. Sora buses are expected to operate primarily within Tokyo and may even see significant use during the 2020 Olympic Games, which will be held in the city. The Toyota Sora uses the same fuel cell technology that is currently being used to power the automaker's Mirai model.
Bus is equipped with an external energy system that can supply electricity in an emergency
The Toyota Sora has been equipped with an external power device that can supply some 235 kilowatt-hours of electrical power. This energy device could be useful in emergency situations when access to electricity is needed but disrupted in some way. This has become somewhat popular with Toyota's clean vehicles, partly due to the impact of the 2011 Fukushima earthquake. During that time, hydrogen fuel cells were used to provide emergency power to those that had no access to electricity.
Toyota Sora aims to offer a comfortable ride for passengers
The bus is designed with comfort and efficiency in mind, and its use of fuel cell technology allows it to accomplish this. The fuel cell system makes no noise, allowing the bus to operate in relative silence. The bus' seats are also programmed to store themselves while not in use, creating more room for standing passengers. No gear shifting significantly reduces the lurching that is associated with more conventional buses. The Toyota Sora is also equipped with acceleration control, which allows for smooth acceleration to make for an easier ride.
Japan is focusing more heavily on clean vehicles
The bus is part of Toyota's ongoing effort to make transportation more environmentally friendly. It also showcases where Japan's transportation sector is heading into the future. The Japanese government is eager to embrace clean vehicles, particularly those powered by fuel cells, in order to establish a hydrogen society. The country intends to show off a vast array of hydrogen-powered vehicles and fuel cell systems during the 2020 Olympics.