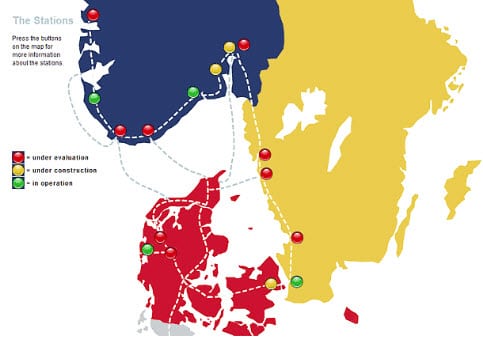 Scandinavian Hydrogen Highway getting a boost from automakers
October 10, 2012

Scandinavian Hydrogen Highway may soon get back on track
While Europe may be making progress in establishing a comprehensive hydrogen fuel infrastructure, the success of this endeavor is largely seen in countries like Germany, the United Kingdom, and France. Scandinavian countries are seeing less success, partly due to the lack of government support and the apparent disinterest of the auto industry. As such, the prospects of hydrogen powered vehicles finding success in these northern countries is dwindling. There may yet be hope for the Scandinavian Hydrogen Highway, as it is called, now that automakers are coming together to see an infrastructure established.
Automakers come together to sign memorandum of understanding
In Copenhagen, Denmark, this week, representatives from Toyota, Honda, Nissan, and Hyundai gathered to sign a memorandum of understanding concerning the development of the Scandinavian Hydrogen Highway. The agreement is focused on encouraging bother public and private stakeholders in Norway, Sweden, Denmark, and Iceland to assist in the development of a comprehensive hydrogen fuel infrastructure during the 2014 to 2017 period.
Private and public stakeholders encouraged to invest in hydrogen fuel infrastructure
Several projects are already in place that are working to build the Scandinavian Hydrogen Highway, but these projects have made little progress due to lack of support. As automakers begin to pressure governments to invest more heavily in the Scandinavian Hydrogen Highway, it is expected that more hydrogen fuel stations will be built in several countries, preparing the way for the launch of hydrogen powered vehicles by 2015.
Scandinavian countries could help make hydrogen transportation a successful endeavor
Most automakers have plans to commercialize their hydrogen powered vehicles by 2015. The only way for these vehicles to find success amongst consumers is to be backed by a strong hydrogen fuel infrastructure. Because many Scandinavian countries do not already have the strong beginnings of an infrastructure, they are not considered appealing markets for many automakers. If an infrastructure can take root, however, automakers expect to see significant profits from selling hydrogen-powered vehicles in this region of the world.